November 2014 Voter Guide
November 3rd, 2014
"The only way to change is to vote. People are responsible." – Paul Wellstone
"The ignorance of one voter in a democracy impairs the security of all." – John F. Kennedy
"If you don't vote, don't bitch." – Steve Earle
Vote the Environment, Always
by Tommy Hough
As many of you know, I'm heading up a newly-chartered club within the San Diego County Democratic Party called San Diego County Democrats for Environmental Action. We've got a great team in place and some very smart, bright, engaged members, though we didn't come together in time to do a full, proper endorsement process for the 2014 races.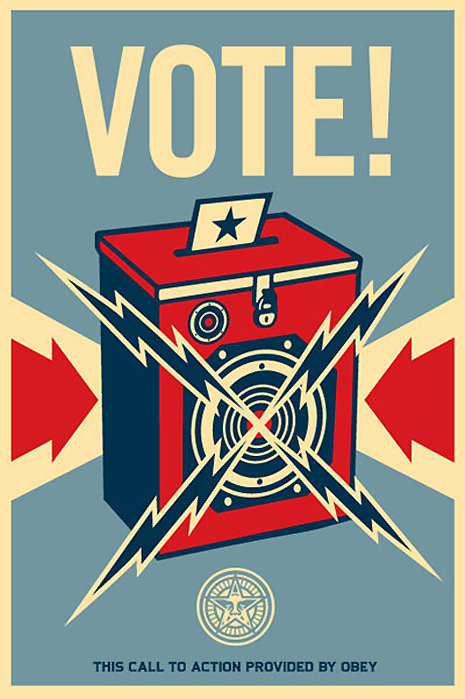 Nevertheless, we hosted an environmental summit in conjunction with CA-52 Congressman Scott Peters in September, and both City Council District 6 candidate Carol Kim and CA-49 candidate Dave Peiser attended and spoke at our October meeting. It goes without saying we're excited about these candidates, and we encourage you to vote for them and do everything you can between now and the close of polls on Election Day to secure their victory. Our country, and our environment, will not be well-served if their opponents win.
More on that below. In the meantime, you need some last-minute picks for Election Day. Treehuggers International is happy to help.
These picks are more or less based upon a ballot in California's 52nd Congressional District (CA-52), so not all races may be listed. For some races you will need to find the candidate running in your federal or state district.
With some exceptions, voter recommendations are pertinent to San Diego County ballots.
Polls open at 7:00 am and close at 8:00 pm, Tuesday, November 4. For a complete list of state elections offices, from Alameda to Yuba counties, click HERE.
California State Races
Governor:  Jerry Brown (listed as Edmund G. "Jerry" Brown)
Is California in better shape than it was four years ago? You tell me. Unemployment is down to near pre-recession levels, California State Parks are out of emergency closures and funding appears to be solvent, and two years ago voters passed Prop. 30, which raised the state personal income tax over seven years for Californians with an annual income over $250,000. The measure also increased the state sales tax by 0.25 percent over four years – thereby enabling California to avoid nearly $6 billion in cuts to public education.
What did Brown do? He showed leadership on the issue of public services without going on a spending spree. Granted, I feel there's a greater need to restore social services and fix infrastructure than is being addressed, and the state's unemployment insurance mechanism was made into a public/private partnership which has turned into a mess – but Brown is slowly guiding the state around the calamity of Prop. 13, and paving a new way to ensure Californians retain the quality of life they've come to expect.
Yes, higher education remains way too expensive in the Golden State, and there will always be a few non-mataphoric rocks on the road in a state as mountainous and seismically-active as California that CalTrans hasn't gotten to yet – but if you don't like fracking, do you really think Neel Kashkari is going to care what you think? Vote for Jerry Brown in what will be his final term as governor and as an extraordinary California public servant.
Lieutenant Governor:  Gavin Newsom
A pioneer in the same-sex marriage debate as mayor of San Francisco in 2004, Newsom is smarter and more capable than his office often gives him the chance him to be.
Secretary of State:  Alex Padilla
Controller:  Betty T. Yee
Treasurer:  John Chiang
Attorney General:  Kamala Harris
Insurance Commissioner:  Dave Jones
Member, State Board of Equalization (4th District):  Nader Shahatit
State Assembly
State Assembly, 71st District:  write-in Howard L. Katz or your write-in candidate of choice
State Assembly, 72nd District:  Joel Block
State Assembly, 73rd District:  Wendy Gabriellea
State Assembly, 74th District:  write-in Anila Ali or Karina Onofre or your write-in candidate of choice
State Assembly, 75th District:  Nicholas Shestople
State Assembly, 76th District:  Rocky Chavez
Since it seems all but impossible to ever get a Democrat, and therefore, some kind of genuine ideological competition in the 76th Assembly District, vote for incumbent Rocky Chavez. As Republicans go, he's apparently not awful, or not awful on the environment. But Rocky – we're always keeping an eye out. Do well in Sacramento and ensure the water and beaches in your coastal district, and the rest of the state, remain clean.
State Assembly, 77th District:  Ruben "R.J." Hernandez
We're not suggesting you vote for GOP incumbent Brian Maienschein, but according to friends and sources in Sacramento, Brian isn't an awful guy – at least he admits to being a Republican. R.J., on the other hand, keeps changing his mind. Several years he ago he was a Republican, but he ran as a Democrat in 2012, perhaps hoping enthusiasm for Obama's re-election would give him a boost. It didn't. Over the summer he got squishy again and this time dropped the "D" from beside his name. So he's kinda/sorta a Democrat who's not admitting he's a Democrat anymore, which as far as we're concerned puts him in the category of spineless national candidates like Mark Pryor and Alison Lundergan Grimes who won't even admit they voted for Obama. Political opportunism is a part of politics – but if you can't "own" your own party and lead on it then what do you stand for? And more importantly, how soon until you change your mind again?
State Assembly, 78th District:  Toni Atkins
State Assembly, 79th District:  Shirley Weber
State Assembly, 80th District:  Lorena Gonzalez

Lorena is running unopposed, but we're big, big fans of Lorena. She's doing good work, so please give her your vote. If you're in Lorena's district, you're lucky to have her, and Sacramento is a better place with her there. Just ask part-time employees who now receive sick days. More to come from Lorena Gonzalez.
Federal Races
U.S. Representative, 49th District:  Dave Peiser

No one likes Darrell Issa, not even many Republicans. But few voters in the predominantly coastal 49th District even realize they're in Issa's district, thanks to gerrymandered changes to congressional districts which took effect two years ago.
Dave Peiser may at first be attractive because he's not Darrell Issa, but he's a successful local businessman and an earnest good government advocate – and green on the environment through and through. Unlike Issa, Peiser would actually begin addressing rising sea levels in this coastal district (from Dana Point to La Jolla), whereas Issa and the congressional GOP are still living in a world where science doesn't matter and climate change isn't real, but endless conspiracy theories over Benghazi are. And for those who live near the water and want to give Issa a pass, remember he lives on a hill inland in Vista. Can we at last get rid of this creature? He blames the IRS for doing its job calling out phony 501(c)3s, but shuts off the mic of his colleagues when what they have to say will discredit him. Be a credit to the 49th District if you live in it and #FireIssa and #HirePeiser.
U.S. Representative, 50th District:  James Kimber

Incumbent Congressman Duncan D. Hunter benefits from being named for his father, but whereas Hunter Sr. was at least a Cold War hawk with smarts, Hunter Jr. is more than happy to cruise on name recognition – as evidenced by his dropping his middle initial for this year's race. Consistency, you know. In a small way, Hunter kicked off the ugly summer of racist demonstrations in Southern California communities (which interestingly aren't anywhere near the border with Mexico), when he aped a Tea Party rumor that kids and families escaping violence in their Central American home counties to be housed at a facility in Escondido were carrying diseases. He's more recently taken to ISIS and Ebola in his ongoing, and vote-getting, border fear-mongering. You can respect Hunter's laudable military service, but vote for James Kimber.
U.S. Representative, 51st District:  Juan Vargas
U.S. Representative, 52nd District:  Scott Peters
While the easy answer here is "do you really want Carl DeMaio to be your congressman," several other local scribes have detailed DeMaio's disreputable politics and attitude in greater, better detail than I ever will, from being caught red-handed vandalizing Chief George George's campaign sign during his race for city council in 2008 to DeMaio's current scandals – so let's talk about Scott Peters for a moment.
San Diego County Democrats for Environmental Action hosted an "environmental summit" with Congressman Peters in September, and we liked what we saw. Only one term in as a U.S. congressman, the former port commissioner and city councilman has the potential, and opportunity, to become a well-spoken, bright leader, and while the Democrats are sure to remain the minority party for the time being in the House, Peters has already been tapped by leadership to do more on climate change and the environment, and appears poised to be a strong leader on protecting the nation's long-standing environmental and conservation laws. As an environmental attorney, Peters understands the necessities and intricacies of the law, and can bat away Tea Party and GOP nonsense on "land grabs" and Cliven Bundy-like sagebrush posturing.
If the question is who is going to be a better candidate on the environment, no one, not even Carl DeMaio, would claim DeMaio is the better choice. And DeMaio isn't better by miles on a variety of issues, whether on the environment, his willingness to needlessly privatize every public service, or the public's reaction to his ongoing trail of sleaze. Don't like fracking? Don't expect much help or interest from DeMaio. Want clean water and clean beaches? Do you really think Carl DeMaio is your "clean water" candidate? I've said before if you really have to think about the choice here, you're over-thinking it. I stand by it. Vote for Scott Peters, and Carl DeMaio can skip the process of making Congress worse and go straight to being a coal lobbyist.
U.S. Representative, 53rd District:  Susan Davis
I had the pleasure of living in Congresswoman Davis' district for several years, and have always appreciated the kind assistance her staff has lent my wife and I. I was also delighted and honored to be able to interview Congresswoman Davis for a piece my production partner and I produced for the California State Parks Foundation in 2012.
City of San Diego
City Council, District 6:  Carol Kim
We're enthusiastic about Carol Kim and believe she'll make a great addition to San Diego City Council. She's a career educator who has stepped into some tough assignments, including working with substance abusers, foster youth, and in HIV prevention, and Carol has provided training for public health nurses, community service providers, and teacher candidates. As a Democrat, she's earned her stripes giving back to her community. As a first-time candidate, Carol is someone who hasn't been hanging around looking for a position to run for, but someone who feels she can make a positive difference on city council.
Also, with Council President Todd Gloria working with Mayor Faulconer to move forward with the city's proposed Climate Action plan, environmental advocates will need Carol's vote on city council.
According to the San Diego CityBeat's endorsement of Carol Kim in their October 8th issue:
In December, temporary District 2 Councilmember Ed Harris, a Democrat, will leave office, and current District 6 Councilmember Lorie Zapf, a Republican, will take his place. So, if [Carol Kim's opponent Chris] Cate beats Kim in the race in District 6, the Republicans will have four of the nine seats and would be able to sustain Faulconer's vetoes. That means they'd be able to knock down any progressive policy initiatives that the mayor doesn't like.

More to the point, the San Diego Regional Chamber of Commerce and the local Building Industry Association would be able to kill anything they don't like, because that's whom Faulconer and the council Republicans serve.
Carol Kim made some time to attend and participate in the San Diego County Democrats for Environmental Action October meeting, when we had a presentation on the city's Pure Water program.
I noticed during the presentation Carol studiously taking notes on the presentation, by hand. Perhaps I'm reading too much into it, but I was impressed to see a candidate, far from TV lights or debates or working the room, taking genuine interest in a topic she as a city council member would have to take positions on and vote on. To me, that spoke volumes about Kim's commitment to the public trust, taking the job seriously, and most importantly in my book – a genuine sense of curiosity about policy and solutions. Vote for Carol Kim.
Education
San Diego Unified School District Member, Board of Education District B:  Kevin Beiser
We heartily and enthusiastically suggest re-electing Kevin Beiser as president of the San Diego Unified School Board. Please re-elect him in his position listed above.
Propositions
YES on PROP. 1
I get it, I get it: Prop. 1 is far from perfect and I get the concerns. People don't want a lot of public money being invested into mechanisms that benefit giant private agricultural interests – I certainly don't. I led a discussion on this at the last San Diego County Democrats for Environmental Action meeting and heard an array of informed opinions on the topic.
The reality is there are far too many people in California, far more than the environment can reasonably sustain (yes, Bay Area, that means you too). Like anything that involves sausage-making, i.e. politics, compromises were made in the formulation of Prop. 1 to achieve the greater goal of making desperately-needed reforms to our water system.
If the compromises and deal-making weren't made we'd still be in a position where NOTHNG was being done. Gov. Brown took the initiative and made the deals, the new water storage would be in below-ground facilities and not dams (which is very good), and at best it's a foundation for needed policy we can build bigger and better improvements onto. It's not perfect. What is? We need to address how we move and store water around the state – but those who vote no have a sympathetic ear here, and an understandable reason to do so.
YES on PROP. 2
Yeah, this is another eye-roller. Everyone seems to be in favor of it: Democrats, Republicans, and so on. Prop. 2 is basically designed to alter the way the state brings money into its rainy day and emergency funds, so if we get caught in another recession or have a disaster (like an earthquake) that blows out the state's prepared funding for such contingencies it won't send the state into an economic tailspin. Basically, it's codifies some financial consistency. We vote a hesitant yes.
YES on PROP. 45
YES on PROP. 46
YES on PROP. 47
NO on PROP. 48
Vote the Environment
If you're a fan of Treehuggers International, you only need to keep one thing in mind this election year, and every election year: Vote the environment.
Which is the best candidate or proposition that is going to benefit the environment?
Republicans, emboldened by the Tea Party and pushed further and further to the right by this Astroturfed movement harnessing the anxiety of white, middle-class voters, have been making it clear over the last two years of their willingness and intention to subvert and undo our nation's long-standing environmental laws, mostly at the behest of oil, gas and other resource extraction industries.
You don't have to look too far into the headlines today to find truly extreme, patently nuts examples of Republicans saying the most outrageous things about the environment – and not just in terms of climate change, but in terms of public lands and the responsible management of public lands for all citizens.
While we're at it, let's give the president credit on creating a half-dozen new National Monuments around the country, which, two years ago, seemed very unlikely, including the brand new San Gabriel Mountains National Monument in L.A., the Organ Mountain-Desert Peaks Wilderness in New Mexico, and the San Juan Islands National Monument in Washington (about time).
On the other side of the coin, here's a sample of the environmentally-hostile legislation the House of Representatives has spewed out over just the last year. Granted, President Obama seems less likely now to buckle on the environment than he did just a few years ago, in part because he's realized he'll get nowhere with the GOP Congress no matter what he does, no matter how sane and appropriate.
But Obama won't always be president, and this legislation will go back on the shelf and wait for the day a more "amenable" president is in office – or if the GOP takes control of both houses of Congress, as they seem poised to do, they'll be in a position to override any presidential vetoes. With toxic legislation like this in the mix, that's a scary premise, but one we may have to get used to if Democrats fail to turn out at the polls and a GOP-majority Congress is ushered in:
H.R. 2 – A bill that would significantly limit the EPA's ability to regulate greenhouse gas emissions from power plants under the Clean Air Act.  (9/18/14)
H.R. 4899 – A bill that gives away public land (including National Forest lands) to oil companies, which threatens conservation, tourism, fishing, and coastal environments. (6/26/14)
H.R. 3826 – A bill that puts the nation's health, economy, and environment at risk by blocking federal efforts to reduce carbon pollution, and does nothing to address job creation. (3/6/14)
H.R. 2641 – Legislation designed to blur the roles of private entities and agencies in agency decisions by allowing project sponsors to prepare environmental-review documents. (3/6/14)
H.R. 2804 – A package of four Republican bills that impose new, burdensome reporting requirements for federal agencies and undermine the ability to regulate for safety and the environment. (2/27/14)
H.R. 2728 – Legislation designed to block federal supervision of hydraulic fracking for oil or gas on federal lands. This would give control over oil and gas production on public land to states, even if it were to result in weak management – or no management. When Big Industry says they "want the states to decide for themselves," this is what they mean. No environmental regulation, even on public lands. (12/9/13)
H.R. 1526 – Legislation to undermine, or in some cases eliminate, the multiple-use credo of National Forests, i.e. favoring logging over science-based conservation and outdoor recreation. Treehuggers International will never let this go forward without a fight. (9/20/13)
H.R. 761 – This bill benefits the mining industry and significantly reduces or removes proper environmental reviews, undermining environmental protections – and, no surprise, does nothing to address "job creation." (9/18/13)
Leave a comment
---