A Century of Conservation At Muir Woods
July 11th, 2011
Podcast: Download (Duration: 33:10 — 30.4MB)
Ranger Lou Sian of Muir Woods National Monument
Treehuggers International is pleased to welcome Ranger Lou Sian to talk about the magnificence of the coastal Redwood forest ecosystem, and the effort a century ago to save a surviving old-growth grove minutes away from the growing metropolis of San Francisco, resulting in Muir Woods National Monument.
Thanks to Lindsay Bartsh at the National Parks Conservation Association, and Muir Woods Sight Supervisor Mia Monroe for their help with this program. A very special thanks to Paul Lancour for his technical assistance with this edition of Treehuggers International.
"My Dear Mr. Kent: By George! You are right!"
Sprouting from a seed no bigger than a tomato, Redwoods have a special place in western conservation culture. Along with being the tallest trees in the world, California's Redwoods are also some of the world's most rot-resistant trees, and by virtue of their bark, size, and typical surrounding ecosystem, Redwoods are amazingly fire-resistant. Other than man, or the occasional well-placed windstorm, Redwoods have no natural enemies, and can thrive for hundreds if not thousands of years.
Growing in groves of five or six in a small, thin coastal band from Big Sur to the Oregon border, Redwoods once covered some two million acres of the Northern California coast. But due to over-logging, and a lack of understanding about the Redwood forest ecosystem, those once great stands were denuded to the few stands which survive today. While most surviving old-growth Redwood groves have since been preserved in various California state and National Parks, some old-growth Redwood groves do survive today on private timberland, and calls for their preservation occasionally percolate to the surface.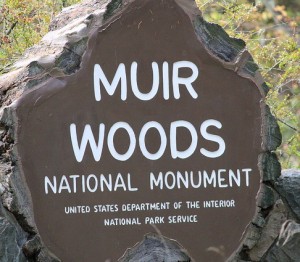 One of the few surviving stands of old-growth Redwoods in the San Francisco Bay Area, Muir Woods lies in a canyon along the Pacific coast in southwestern Marin County, and was one of the first National Park Service units of what is now collectively referred to as the Golden Gate National Recreation Area.
Like classic old-growth Redwood forests, it relies upon fog for regular moisture, and this abundance of fog results in a locally wet environment which ensures abundant plant growth similar to that seen in the Pacific Northwest.
Named for the great naturalist, savior of Yosemite, and Sierra Club founder John Muir, Muir Woods was set aside as a National Monument in Muir's honor by his friend and fellow conservationist, President Theodore Roosevelt in 1908, at the urging of area businessman and future congressman William Kent, after a Sausalito water company announced plans to dam the canyon.
Muir Woods became the first National Monument to be created from land donated by a private individual, rather than land already in federal government inventory.
More about this post at: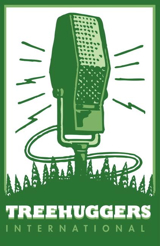 ---