Jerry Schad's Afoot and Afield Legacy
August 2nd, 2011
A Thoughtful Advocate for Southern California's Outdoors
Treehuggers International founder Tommy Hough relates how Jerry Schad and his Afoot and Afield series had a profound effect on his perception, acceptance, and eventual peace with Southern California's varied outdoor environments and landscapes.
Stranger In An Arid Land
by Tommy Hough, Treehuggers International founder and host.
When I first arrived in San Diego, I was despondent. I was enjoying a tremendous career shot in the arm and broadcasting opportunity at a dynamite new radio station bending rules and going rogue, but I was a sad and homesick guy. You could see the cloud over my head a mile away. It's a wonder my now-wife ever put up with me on our first few dates.
The despondency came from the trauma of uprooting myself from a place I'd fallen in love with, and a place I never wanted to leave and never once took for granted. It was the trauma of moving myself far away from every outdoor adventure I loved, every reason I had for living for the weekend (and indulging in more than a few sick days), every place worthy of strapping on a pair of old, comfortable hiking boots and taking along an ice axe for a "just in case" contingency.
For five years, the Pacific Northwest had been my absolute outdoor sustenance. It still very much is, but I had just moved to a part of the country which, as far as I could see, was arid, brown, hot, and living on irrigation-fueled life support. I do not exaggerate when I say this separation was akin to heartbreak; I could not shake myself from it.
Unused as I was to dry climates and desert particulates, the week I moved to San Diego a hot wintertime Santa Ana blew in and immediately gave me a terrible cold as my eyes dried and my nose bled. The winds were strong and sustained enough to collapse a huge branch from a big, old eucalyptus tree in Old Town, which crushed an old woman to death as she was walking her dog in the middle of the day. Welcome to town.
To me, San Diego was a catalogue of things missing and sorely lacking: wide, visceral rivers, dense rainforests, dramatic, glaciated peaks. The local mountains, to my sensibilities, were puny, brown, with zero trees or any confiers to brag about except for the highest reaches of the Lagunas, which upon close inspection were baked, bone-dry and alarmingly flammable. And what's the point of all this sunshine if there's no snow-capped mountains to fix one's gaze on? No glaciers or snowfields or high alpine terrain, with a kingdom of lush forest and crashing waterfalls below?
While I could appreciate the wildness of the desert, it initially held little interest for exploration. It was vast, hot, and definitely not green. It was the inverse of the verdant outdoor environments I'd come to love as I developed my outdoor jones as a kid in the Laurel Highlands of Western Pennsylvania, at college in the Appalachian foothills of southeast Ohio, and later in the waterfall-spray soaked forests and rocky, granite massifs of the Pacific Northwest.
Finding Familiarity In Old Cuyamaca
Of course, an outdoorsman explores, and an explorer does so outdoors. If you love the outdoors, you don't sit around inside thinking about it. Within days I was attempting to come to terms with my new environment, trying to find something I could latch on to and find familiar. I was certainly looking for something to soothe my outdoor jones.
With Gram Parsons and Buck Owens providing the soundtrack in the car, I made my way to the pre-Cedar Fire wonderland of Cuyamaca Rancho State Park, and found myself reminded of parts of Montana, as well as the oak-dotted hills of California's magical Central Coast and Bay Area.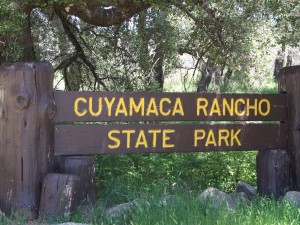 I spent days wandering around Cuyamaca Peak. There were no glaciers. There were no wildflowers. But I saw deer and even a fox in the old Jeffrey and Ponderosa pine forest, and was reminded of some of the forests of eastern Oregon, or the underrated (and soon to be closed) Castle Crags State Park near Mt. Shasta.
This was progress. At least I'd found something which felt comfortable, and a little more familiar.
The next thing I did was pick up a book I'd actually heard about in Seattle called Afoot and Afield In San Diego County. The book was written by a Mesa College astronomy professor named Jerry Schad, who'd appeared several years earlier in a TV adaptation of the book on KPBS, San Diego's public radio and TV outlet.
Judging from the size of the book, Jerry appeared to have hiked every trail ever blazed in the county, and I mean every one. I devoured the contents of Afoot and Afield, first looking for hikes and trails which reminded me of home, then checking out coastal trails through chaparral (an ecosystem I've only just learned to appreciate with the help of Rick Halsey), and then, taking a few curious looks at the desert hikes detailed in the book's Anza-Borrego sections.
Reading through the text of various trips, Jerry made the hikes tangible and interesting, and seemed to have a particular zeal for desert trails, especially some of the more sheer and brutalizing treks in the Santa Rosa range, which even piqued my admittedly low interest for badland adventure.
Before long, I was driving up fire roads on the Los Coyotes reservation near Warner Springs to the forests at the base of Hot Springs Mountain, only to be sideswiped by a view of the Salton Sea I will never forget, appearing like a giant mirage through the trees. I visited the oak groves of Oakoasis in Lakeside and was pleased to find such heavy tree wisdom so close to civilization, cared for as a county park. I walked along the headwaters of the wild Santa Margarita River on the backside of Camp Pendleton, and was calmed by the stillness and quiet of the wilderness.
I found myself in a wildflower riot bright with yellow monkeyflower, hyacinth, and morning glory on the western shoulder of Otay Mountain one March morning. I swear I nearly drowned as I walked through literal walls of water in a late winter cloudburst atop Mt. Woodson, heartened to see freshly-fallen snow through the raindrops blanketing the Santa Ysabel ridge above Ramona. I met a friend for life on a morning trek up Stonewall Peak, and laughed with gallows delight as weather turned cruel on an outing to Garnet Peak. I ascended through the changing ecosystems of the Southern California forest on the Observatory Trail at Palomar Mountain, delighted at finding genuine old-growth cedars near the top.
I returned to Cuyamaca Peak, feeling a little wiser with my newly-minted Southern California explorer's stripes.
Gratitude and Recognition
While I made it a point to explore and hike my way through my separation trauma, I had Jerry Schad to thank for planting ideas in my head as I read pages and pages of Afoot and Afield before falling asleep at night, and guiding me to a trailhead or destination as I kept one hand on my Jeep steering wheel and another holding my rapidly-fraying copy of Afoot and Afield.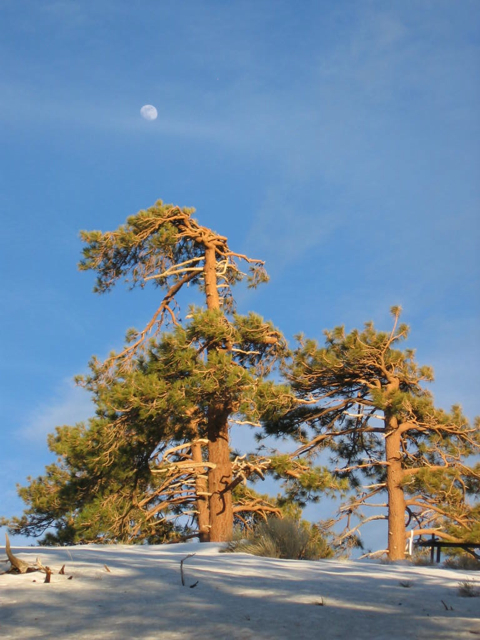 Later I picked up Jerry's Afoot and Afield editions for Orange and Los Angeles counties, and found myself on the wander-worthy San Juan Creek trail in the wild Santa Ana range one day, and ascending 9,399 ft. Mt. Baden-Powell in the San Gabriel range on another, finding some of the freshest air I've ever breathed at the summit, along with one of the strangest mountaintop mysteries I've ever beheld.
I want to thank Jerry Schad for giving a me an outdoor compass for Southern California, and helping me find my way in a region of the country I've sometimes been at odds with personally, but which has always embraced me back.
Through his enthusiastic, clear writing, Jerry helped me find my bearings at a time when I needed it, and helped replace my traumatic sense of loss with a newfound appreciation for where I was, and the self-healing to embrace and be thankful for what I had, as opposed to what I was missing. For that, there are no words which say thank you well enough.
"Just Get Out There"
These days, Jerry is very sick with stage four cancer, having reached a point where treatment is no longer a viable option. He wrote about his condition in the final edition of his long-running outdoor column for the The Reader, Roam-A-Rama. I know from his wife he is resting comfortably at home.
I sincerely hope this piece goes a little of the long way of expressing to Jerry just how much of an impact he's had on me, and how, with his help, I came to be enticed by Southern California's remarkable outdoors through his experiences, and confirmed them with my own.
I know there are tens of thousands of outdoors fans in Southern California who eagerly lace up their boots every chance they get, and feel exactly the same rush of excitement when they make sure they have their copy of Afoot and Afield before leaving for a trailhead. I hope Jerry knows how much of an impact he has made on generations of hikers and outdoors fans. As he wrote in his final Roam-A-Rama column for The Reader, "just get out there."
And when getting "out there," take along your friends and family, and colleagues and neighbors. Get the novices on the trail to breathe in the fresh air and to enjoy a vista or view they can't get from a parking lot. When people make a tangible connection to the outdoors and wilderness, the more inclined they will be to help save it, and preserve it as is.
A Canopy of Stars
In September 2008, shortly after Jerry's first appearance on Treehuggers International, he invited me to an astronomy lecture he was giving to a new crop of Mesa College students, from a wide parking area along Sunrise Highway, a few miles above the I-8 Laguna Summit. Using his laser pointer as the sun fell away and the canopy of stars opened, Jerry diagrammed the constellations and explained their origins, compared and contrasted the remarkable similarity different civilizations had of the same constellations, and pointed his array of telescopes at heavenly bodies from the moon to the rings of Saturn to the Jovian moons. Astronomy is Jerry's true passion, and I thank him for letting me come by and enjoy his lecture as a guest.
Thanks for everything Jerry. We're thinking about you.
Jerry Schad has made two appearances on Treehuggers International: July 13, 2008 and July 19, 2009.
More about this post at: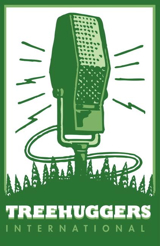 ---