I Love A Clean San Diego and the Creek to Bay Clean-Up
April 3rd, 2011
Podcast: Download (Duration: 29:59 — 27.4MB)

Pauline Martinson from I Love A Clean San Diego
With the ninth annual Creek to Bay Clean-Up happening Saturday April 30th at dozens of sites around coastal and inland San Diego County, Treehuggers International is pleased to present a special edition of Living Better In San Diego with Pauline Martinson, the Executive Director of one of California's oldest and most esteemed community conservation organizations, I Love A Clean San Diego.
Thanks to Connie Glenn and Morgan Justice-Black for their help making this program come together.
With the abundance of outdoor recreation in San Diego and its location next to the Pacific Ocean, visitors are sometimes surprised to learn the region hasn't always been as environmentally aware as some other California cities. While the Miramar landfill continues to make award-winning strides in effectively handling waste and recycling has slowly become the norm, San Diego County, like many U.S. metropolitan areas, still has a significant problem with litter, exacerbating already serious problems with stormwater runoff and beach pollution.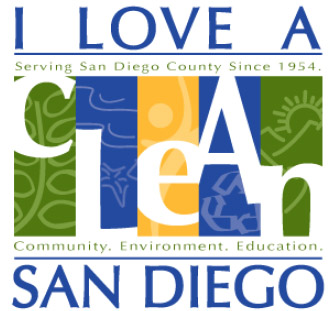 Originally formed as the "San Diego War Against Litter Committee" in 1954, I Love A Clean San Diego has been working exclusively in California's southernmost city to make conservation concerns a priority, and to educate the community on conserving and enhancing the environment through outreach, neighborhood involvement, and perhaps most importantly, by example.
Mobilizing and activating volunteers, and emphasizing the practical reasons for a cleaner environment, I Love A Clean San Diego has effectively tapped into the wealth of civic pride San Diegans have for their city and region in order to enable them to think more responsibly and pro-actively about the environment.
With a myriad of seasonal creeks and year-round rivers draining from the mountainous inland, San Diego County is in many ways a microcosm of the U.S. in the route litter and water pollution can take from rocky foothills and inland areas to mesas and canyons to coastal plains, wetlands, and the beach. It's amazing how far a piece of litter can travel in Southern California watersheds, even in dry months, on it's way to the beach. From there, the next stop is the North Pacific Gyre, also known as the Great Pacific Garbage Patch.
I Love A Clean San Diego Executive Director Pauline Martinson talks not only about the history of I Love A Clean San Diego, but the organization's educational programs and innovative On-Line Recycling Database, along with the ninth annual Creek to Bay Clean-Up, happening Saturday April 30th from 9:00 am to 12 noon at dozens of inland and coastal locations throughout San Diego County, including Otay Mesa, Imperial Beach, Chollas Creek, San Marcos, Ramona, Fallbrook, Rainbow and many, many more.
For more information on I Love A Clean San Diego, call (619) 291-0103. For I Love A Clean San Diego's recycling hotline, call 1-800-237-BLUE.
Living Better In San Diego logo by Dustin Singler.
More about this post at:
Leave a comment
---