Tree Hugging Day With Green Advocate Tamara Henry
March 12th, 2010
With the 40th anniversary of Earth Day right around the corner, we at Treehuggers International are happy to report we've been invited to the second annual Public Group Tree Hug, during Tree Hugging Day in Los Angeles on the upcoming spring equinox, March 20th, at the Children's Tree of Life at Palisades Park in Santa Monica.
Designed to be a simple, fun, and social way for people to show their appreciation for trees and a clean environment, Tree Hugging Day is built on big intentions: to be a worldwide celebration, and as this year's Tree Hugging Day organizers say, to celebrate trees and "the many aesthetic, environmental, and life-giving attributes they provide." We at Treehuggers International happily concur.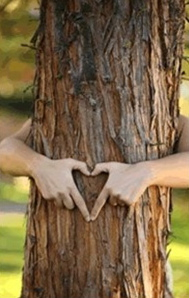 Tree Hugging Day is the brainchild of L.A.-area activists Jerry and Marissa Rubin and their Alliance for Survival organization, and the featured speaker at this year's Tree Hugging Day is green advocate Tamara Henry, the host of Green T With Tamara TV.
Coming from a background in TV news and broadcast journalism, Tamara has carved out an innovative new media venture with a decidedly green, pro-environmental message, and has been active in spreading the word about the environment and conservation in Hollywood and beyond.
Tamara also represented "the Natural State," her home state of Arkansas in the Miss America pageant, and is behind the Green Is Gorgeous Eco-Contest, in which she works with the Miss America competition to promote green ideals and sustainable lifestyles. She is also behind HOPE, an acronym for Healing Our Planet Earth, a catch-all mission statement to increase environmental awareness and advocacy.
Dubbed "Green T" by her friends, not only is Tamara serious about making the world a kinder, greener place, she's also been doing something for the last 10 years completely unheard of in Southern California: not driving. Since 2000, Tamara has been opting to roller-blade, carpool, and utilize public transportation to get from Point A to Point B, all in the name of contributing a little less to the Earth's daily dose of auto-fueled carbon monoxide, nitrogen oxides, ozone, and smog-producing particulate matter.
Treehuggers International salutes the activism and dedication of Tamara Henry and Green T With Tamara, and reminds you to hug a tree this Saturday.
More about this post at:
Leave a comment
---