Because Old Packs Never Die: Adventure 16 and the Donate-A-Pack Foundation
May 30th, 2010
Podcast: Download (Duration: 28:36 — 65.4MB)
Giving New Life to Old Gear
"Our ultimate goal is to help young people learn outdoor skills and foster an appreciation for the natural environment, while understanding such exposure helps develop responsible, healthy, confident, and enlightened adults who, in turn, will pass on their meaningful experiences and good values to the next generation."
–  from the Donate-A-Pack Mission statement
Everyone knows if you're heading into the backcountry on a wilderness trip or backpacking adventure, there are a few choice pieces of gear you absolutely need, even beyond the 10 Essentials. Unless you're embarking on all but the most modest of day hikes, you'll need some kind of a pack, and even day hikers find a small pack a handy place to store extra water, food, and perhaps a change of shirt or extra socks.
Backpackers clearly need a few additional items for their outings, and boots, a tent, and a sleeping bag, along with a good backpack are essential.  New, ultra-light backpacking technology has become a more comfortable way for many to experience the great outdoors, but the gear doesn't exactly come cheap, and while good buys on basic gear can be found at military surplus outlets or stores which specialize in hunting, it can be difficult for the novice outdoorsman to get around basic gear necessities for safe and fun outdoor recreation without some investment.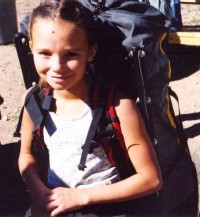 While dozens of organizations like the Boy Scouts, Sierra Club, and similar outdoor exploration and stewardship clubs offer an excellent framework for children to learn safe and responsible wilderness travel, parents aren't always in a position to spend on a child's outdoor gear when more basic needs like food, shelter, and education are pressing, especially in the current economic climate.
A former Boy Scout himself, Adventure 16 President John D. Mead recognized this need during one of the outdoor outfitter's annual gear swap meets, and with the help of outdoor colleague and American Hiking Society volunteer David MacDonald, founded the Donate-A-Pack program in 1997. Within a matter of months Donate-A-Pack had donated some $6,000 worth of gear to youth-focused outdoor organizations.
The Donate-A-Pack program particularly makes it a point to assist outlets which work with at-risk or underprivileged youth, like the Adventure Nature Camp, Destiny Education, Outward Bound, and Big City Mountaineers, all of which give troubled and inner-city kids, many of whom have never had an outdoor experience, a chance to learn outdoor skills as a means of developing confidence and becoming aware of experiences beyond a broken home or unsafe communities.
By providing access to overstock items and used gear from Adventure 16 customers, much of it in pristine condition, the Donate-A-Pack program has also been integral to the success of organizations like the Foundation for the Junior Blind, which offers hiking and camping experiences for visually impaired young people, and Camp Laurel, a Pasadena-area camp which gives children living with HIV and AIDS opportunities to enjoy the outdoors.
Both John D. Mead and David MacDonald join Tommy for this special edition of Treehuggers International.
(program originally broadcast June 22, 2008)
More about this post at:
---