Trail Philosophy With Guidebook Author Craig Romano
December 28th, 2010
Podcast: Download (Duration: 34:23 — 78.7MB)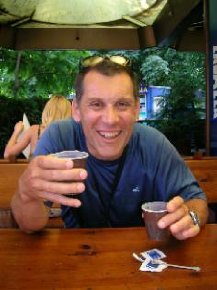 An avid hiker, runner, kayaker and bicyclist, and the author of nearly a dozen books and hundreds of magazine and newspaper articles, Treehuggers International is thrilled to present guidebook author Craig Romano.
Tommy caught up with Craig Romano at the studios of KSVR radio at Skagit Valley Junior College, near Craig's home in Mt. Vernon, where this interview was recorded with the help of KSVR General Manager Rip Roberts and Station Manager Dave McConnell. We at Treehuggers International express our gratitude to Rip and Dave and the team at KSVR for their assistance in producing this program.
Native New Englander Falls for the Pacific Northwest
Growing up in rural New Hampshire, Craig quickly combined his love for writing with his enjoyment of the outdoors. While first writing about bicycling, as he grew older, Craig's writing began to compliment his zest for lacing up a pair of boots, grabbing a handful of chocolate-covered espresso beans, and hitting the trail.
A former backcountry ranger in the White Mountain National Forest, Vermont ski bum, and hiking guide in the Pyrenees Mountains of France and Spain, Craig has traveled the world from Alaska to Argentina and Sicily to South Korea, seeking, and often finding, wild and spectacular landscapes.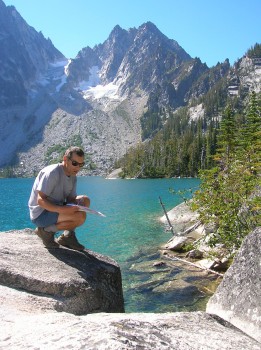 A resident of Washington state for over 20 years, Craig conservatively estimates he has hiked some 13,000 miles of the Evergreen State, from Cape Flattery on the wild northwest corner of the Olympic Peninsula, to Puffer Butte above the waving wheat fields of the Palouse of the southeast, and from Cape Disappointment in the southwest corner at the mouth of the Columbia River, to the Salmo-Priest Wilderness along Washington's northeast frontier with Canada.
Trails and Frontiers
In fact, one of Craig's most notable efforts is about Washington's still-wild northeast corner. Written and released in conjunction with Conservation Northwest, Exploring Washington's Last Frontier is a book about the growing Columbia Highlands wilderness initiative currently underway in the Colville National Forest.
Craig continues to set a prolific pace, putting the finishing touches on a new backpacking trail guide for the Mountaineers Books, and working with Rich Landers of the Spokane Spokesman-Review on a day hiking guide to Eastern Washington.
In addition, Craig has released a new day hiking volume on the Columbia River Gorge as part of the Mountaineers Books' revised day hiking guidebook series, complimenting his previous titles on the Olympic Peninsula and North Cascades, with a portion of the proceeds from each guidebook going to fellow Treehuggers International friends at the Washington Trails Association.
More about this post at: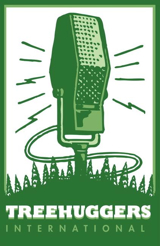 ---