Farmers Markets and Organic Farming
July 15th, 2007
Podcast: Download (Duration: 27:26 — 31.4MB)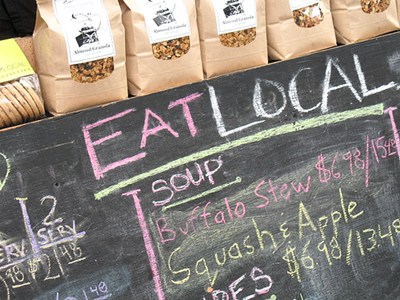 One of the great pleasures of living in Seattle is the regular abundance of fresh Pacific Northwest food and neighborhood farmers markets, seemingly located in every corner of the city. From apples and Rainier cherries to peppers, roots, and herbs, the volume of tasty, healthy delights available at area farmer's markets never ceases to amaze.
But these neighborhood markets don't just appear out of thin air, there's a dedicated, hard-working crew of people behind the scenes who organize, arrange, and set up weekly farmers markets throughout Seattle.
From the Neighborhood Farmers Market Alliance, Janet Hurt joins Treehuggers International to discuss the history and growth of Seattle-area farmers markets and the resurgence of specialty organic family farms, while comparing and contrasting farmers markets prices to prices at your local grocery store.
Janet also explains the basics of organic farming, the benefits of buying local, the freshness and variety of food available at area farmer's markets, and the ability for the customer to talk directly to the farmers in person.
We'll debunk farmers markets myths, explain what constitutes a "local" farm, discuss the positive impact of the Neighborhood Farmers Markets Alliance and other markets on local economies and the neighborhoods they operate in, how buying and eating locally-grown food can lower the chance of disease outbreaks, and the need to retain productive farmland and open spaces in the growing Skagit Valley between Seattle and Vancouver.
More about this post at:
---