New Treehuggers International Logo
December 21st, 2007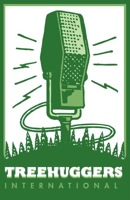 Many thanks to Nick McPherson at San Diego's 6-1-9 Graphic Design for designing this new logo for me. The original Treehuggers International homepage is in the midst of a major facelift, but will soon have all the San Diego and Seattle shows on-line and in one place, plus new blog entries and guest backgrounds. It will definitely be a more comprehensive website when it's back up to spped, but in the meantime we're now on-line with the Treehuggers International page at FM 94/9's website, which is great news, so give it a look and a listen!
Recent guests include Stefanie Sekich, Surfrider's point person on all things relating to Trestles and the preservation of San Onofre State Beach, San Diego State University geology professor Dr. Pat Abbott discussing seismic hazards in San Diego (including the nearby Rose Canyon and Elsinore Faults), and ex-San Diego Fire Chief Jeff Bowman talking about the October Wildfires in San Diego County, and his recommendations to the city of San Diego and ultimate resignation as Fire Chief in 2006.
Interesting, informative, and enlightening, with plenty of new episodes on the air and going on-line. Treehuggers International, Sunday mornings at 5:30 on FM 94/9.
More About This Post
---